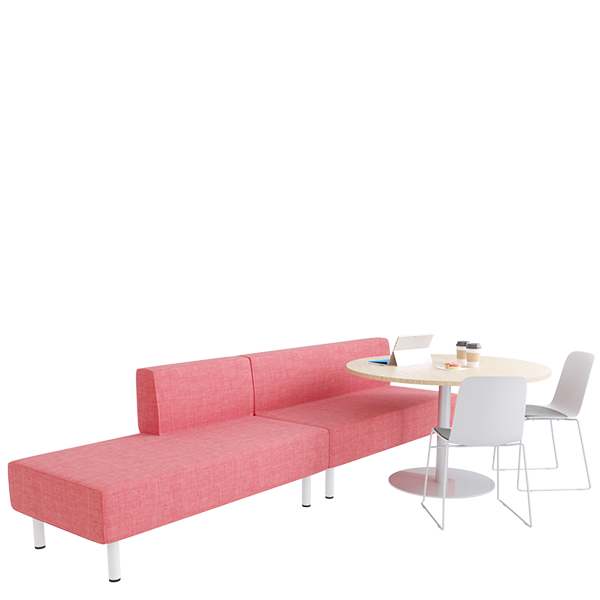 Converge Bundle
Origami
Includes
1x Origami Full Back Sofa
1 x iDisc Round Table
1x Origami Half Back Sofa
2 x Agora Stacking Chair

Starting From
$2,555 + GST
---
Features
---
---
Resources

2023 Term 1 Bundles
Inspire creativity with the Origami Converge Bundle! This multi-purpose school furniture bundle ensures that your staff can work, rest and play in comfort. With a full back sofa, a half back sofa, an iDisc round table and two Agora stacking chairs, you'll have all the tools necessary to construct a functional staff lounge space that encourages collaboration and respite.

Designed for both comfort and style, the full back sofa allows students to relax in cushioned support while the half back sofa is ideal for spaces where space is limited. The classic round iDisc table gives users plenty of workspace while the Agora stacking chairs offer choice of seating without taking up too much room. Perfectly situated together, these furnishings offer a multi-functional booth style environment where staff can create, unwind and collaborate in vibrant style.

This innovative solution is perfect for schools that desire sophisticated yet practical furniture solutions without compromising on aesthetics or functionality. With plenty of contemporary flair and modern appeal, this piece will add boldness to any environment – making it great for getting those creative juices flowing! Transform your staff spaces today with the Origami Converge Bundle—it's an easy way to inspire productivity, exploration and creativity!
---
Product Finishes
Atlas Fabric
11 colours available

Oasis

Abyss

Amazon

Fern
Moss

Wattle

Ochre

Persian

Peat

Slate

Fox
---
More from other categories