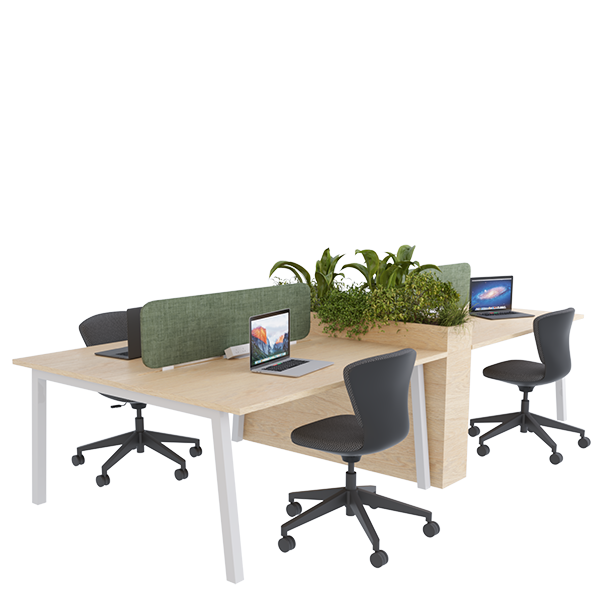 Performance Bundle
Shinto
Includes
2x Shinto 1500 S2 Table
4x Ogi Task Chair
1x Planta 1500 Maxi Planter*
2x Pet Panel Screen

Starting From
$3,735 + GST
*Plants not included
---
Features
---
---
Resources

2023 Term 1 Bundles
Inspire creativity at your school with the Shinto Performance Bundle! Our bundle combines essential pieces of office furniture to create the optimal staff environment. The package includes 2x modern Shinto tables, 4x ergonomic Ogi task chairs, 1x sleek Planta Planter Box for adding a touch of greenery to any space, and 2x Pet Panel Desk Screens for added privacy and comfort. With the Shinto Performance Bundle, you can create an inspiring workspace where staff can experience maximum productivity.

The Shinto Series 2 table is designed according to advanced industry standards and is built to last. It features a sleek surface that looks great in any setting while four sturdy legs ensure superior stability. Meanwhile, the Ogi task chair provides extra support with its adjustable gas lift mechanism which allows it to be set at different heights. The plush cushioning on the chair ensures maximum comfort throughout long hours at work.

The Planta Planter Box adds a finishing touch to this bundle by infusing your school's interior with nature's beauty. Lastly, our Pet Panel Desk Screens provide visual barriers between staff while still allowing natural light through - perfect for creating an open yet private workspace!

Bring balance and style into your school's staffrooms and team environment with the Shinto Performance Bundle today! You can create an inviting atmosphere tailored specifically to fit your school's needs.
---
Product Finishes
E0 Laminate
5 colours available

Dark Oak

Natural Oak

Light Oak

White

Grey
Laminated Ply
4 colours available

Dark Oak Ply

Natural Oak Ply

Light Oak Ply

White Ply
Natural Timber
2 colours available
Birch Ply

Rubberwood
---
More from other categories