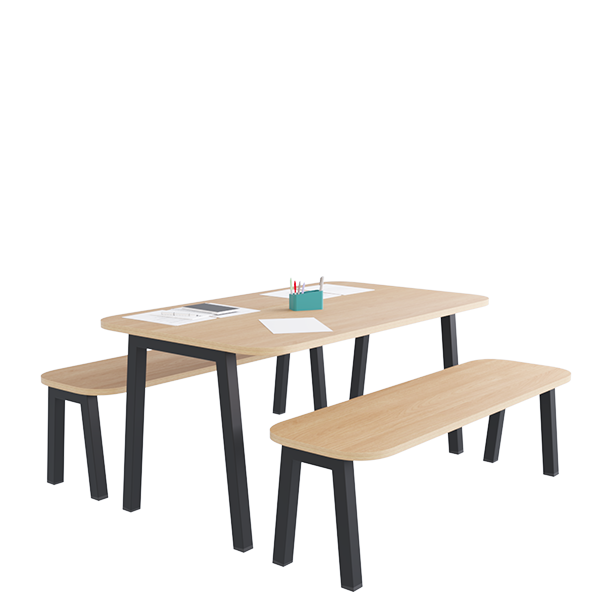 Picnic Bundle
Shinto
Includes
1 x Shinto Picnic Table*
2 x Shinto Picnic Bench*

Starting From
$1,095 + GST
*Only Available in Rubberwood
*Indoor Use Only
---
Features
---
---
Resources

2023 Term 1 Bundles
Introducing the Shinto Picnic Table Bundle - the perfect way to give your school's communal spaces an instant upgrade! Our bundle includes our stunning NEW Shinto picnic table and two cosy Shinto picnic bench seats - creating a comfortable spot for students to relax and enjoy lunch, or get together for class projects! Crafted with high quality, heavy-duty materials, this sturdy set guarantees years of lasting performance.

The versatile design of the Shinto picnic table makes it perfect for any indoor learning environment. Its sleek lines and sturdy construction combine appeal and quality with an unbeatable price tag. Plus, natural timbers liven up your school's interiors, adding an inviting yet sophisticated touch that both teachers and students will love. No matter what time of year it is, you'll be able to enjoy al fresco dining or art classes indoors with this creative table bundle.

So stop wasting time hunting for school café or STEM furniture - the solution to all your needs lies right here in our exciting Shinto Picnic Table Bundle! Get ready for plenty of fun days ahead!
---
Product Finishes
E0 Laminate
5 colours available

Dark Oak

Natural Oak

Light Oak

White

Grey
Laminated Ply
4 colours available

Dark Oak Ply

Natural Oak Ply

Light Oak Ply

White Ply
Natural Timber
2 colours available
Birch Ply

Rubberwood
---
More from other categories