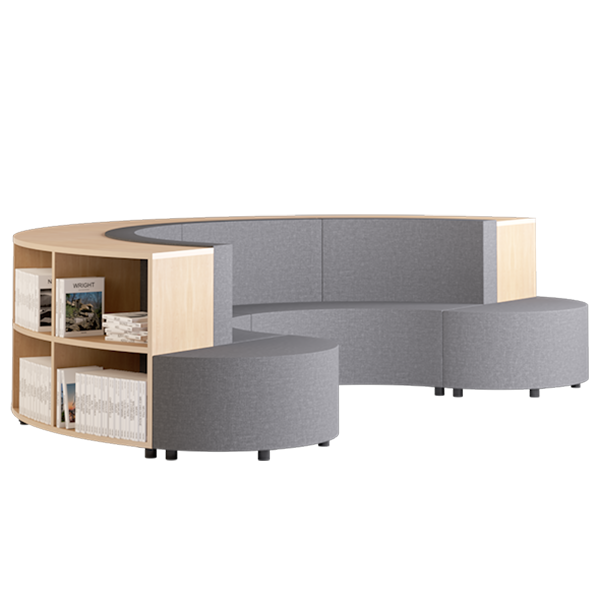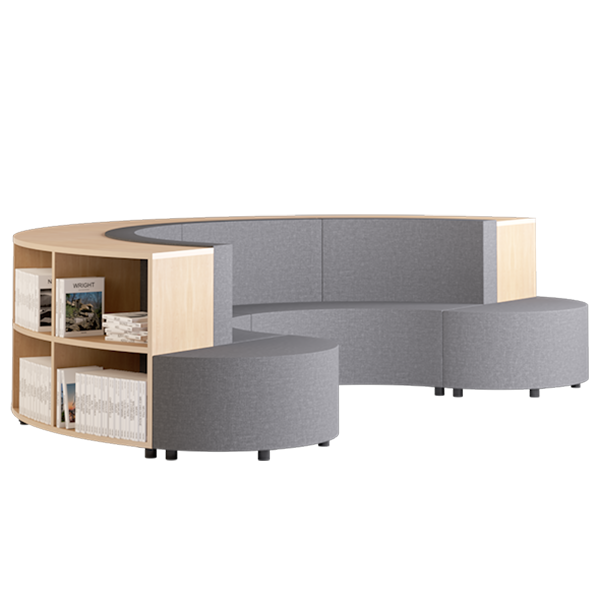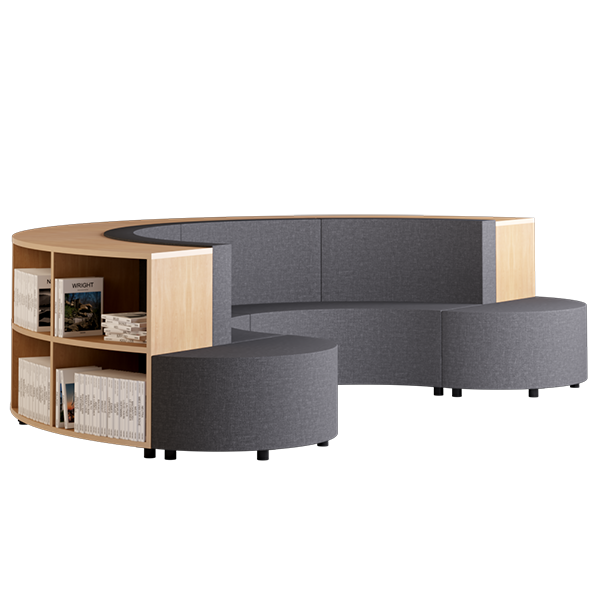 Lounge Setting
Habitat Den: D1
Discover the Habitat Den: D1 Modular Lounge – a versatile, creative seating solution from VE Furniture's Habitat Collection, ideal for fostering collaboration and independent learning in educational environments.
---
Features
---
---
Resources

Habitat Modular Lounge
VE Furniture's Habitat Collection revolutionises the concept of educational furniture, offering a dynamic range of settings to inspire, engage, and accommodate diverse learning styles. The Habitat Den: D1 Modular Lounge is a prime example of this innovation, specifically designed to enhance learning environments in Australian schools.
Versatile and Adaptable
This modular lounge set is remarkably versatile, ideal for various educational spaces such as classrooms, breakout zones, and staff rooms. Whether it's group discussions, individual reading sessions, or creative brainstorming, the Habitat Den: D1 adapts effortlessly to all.
Engaging and Comfortable Design
Comprising two Habitat 1/4 Curved Sofas with an integrated bookcase and two D-End Ottomans, the design encourages a comfortable and engaging learning atmosphere. The curved sofas not only add a unique aesthetic but also promote a more inclusive and interactive group dynamic. The integrated bookcase keeps resources at hand, fostering a seamless learning experience.
Maximizing Space
Designed with space optimisation in mind, the Habitat Den: D1 is a compact, arena-style seating arrangement. It comfortably accommodates up to eight students without overwhelming the room, making it an excellent choice for both larger spaces and more intimate settings. This feature is particularly beneficial for schools looking to maximize their available space while maintaining functionality and comfort.
Supporting Diverse Learners
Understanding the diverse needs of students, the Habitat Den: D1 offers a seating solution that supports various learning styles. It's perfect for breakaway group activities, encouraging collaboration and teamwork. Equally, it provides a tranquil retreat for students seeking a quiet space for reflection and solo focus. This versatility ensures that all students, regardless of their preferred learning style, can benefit from the furniture.
Durable and Sustainable
Durability is a key consideration in school furniture, and the Habitat Den: D1 does not disappoint. Crafted from high-quality materials, it is built to withstand the rigors of daily school use. This durability ensures a long lifespan, making it a cost-effective and sustainable choice for educational institutions.
The Habitat Den: D1 Modular Lounge from VE Furniture's Habitat Collection is an innovative, flexible, and durable lounge choice for Australian educational environments. It supports various learning styles, encourages collaboration, and maximizes space, all while providing a comfortable and engaging environment for students and educators alike.
---
Product Finishes
Atlas Fabric
11 colours available

Oasis

Abyss

Amazon

Fern
Moss

Wattle

Ochre

Persian

Peat

Slate

Fox
E0 Laminate
6 colours available

Dark Oak

Natural Oak

Light Oak

White

Grey

Storm
Laminated Ply
4 colours available

Dark Oak Ply

Natural Oak Ply

Light Oak Ply

White Ply
Natural Timber
2 colours available
Birch Ply

Rubberwood
---
More from the Lounges Collection
More from other categories