Learning Spaces
Special Needs
SPECIAL NEEDS CENTRES FOR UNIQUE STUDENTS
Curating
thoughtful spaces

that deliver the

best learning outcomes

!

Special Needs schools are dynamic spaces that need to accommodate a range of unique students. Often sensitive to sound and noise, environments for special needs students are vitally important to reduce overstimulation and feelings of being overwhelmed.

Calm, soft spaces with neutral and natural colour palettes that create a relaxed and homely feel provide the ideal environment and are facilitated through thoughtful material choices that reduce sound transfer and support students in transitioning between spaces.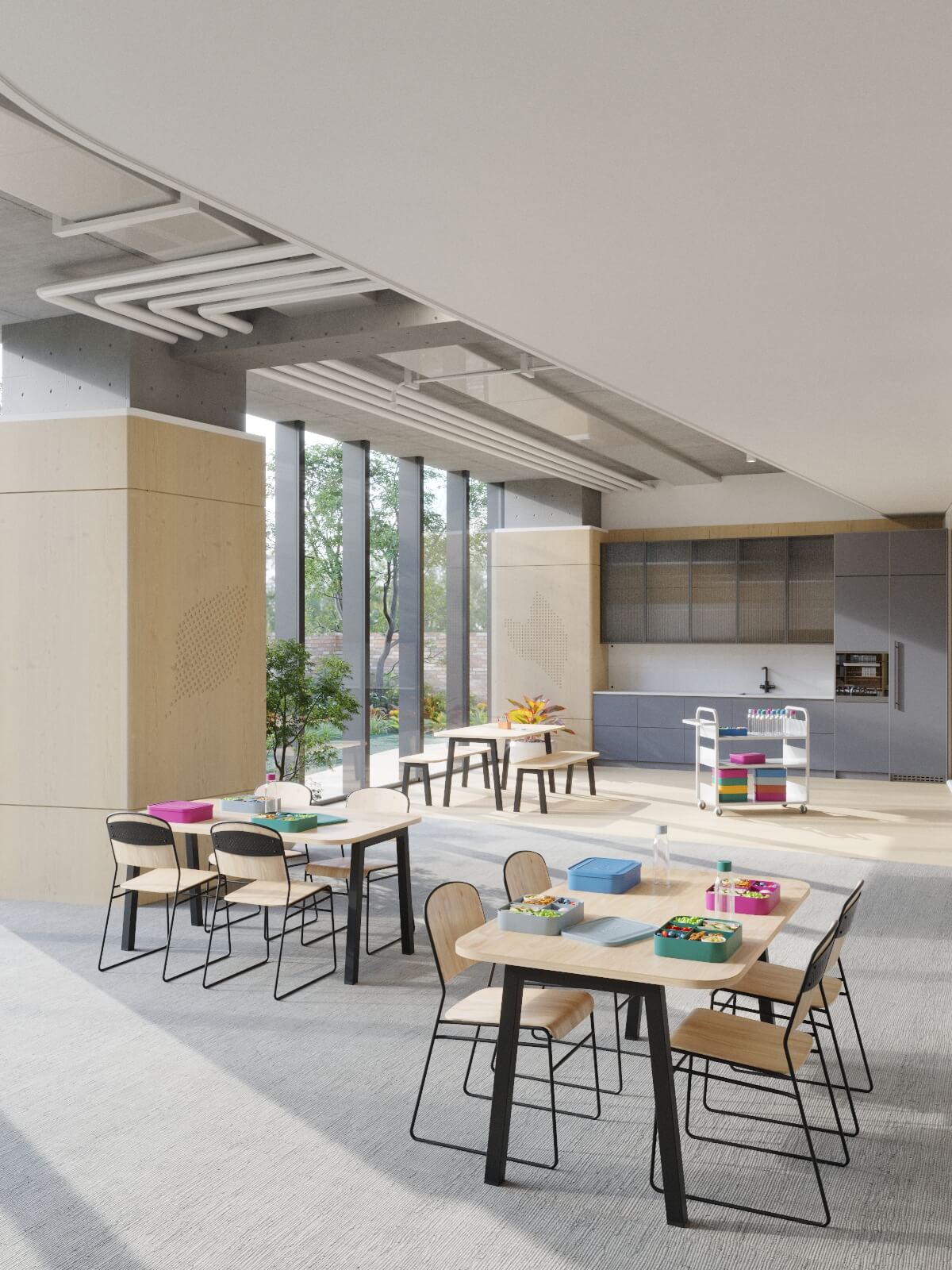 LEARNING ENVIRONMENTS TO ACCOMMODATE FOR THE WIDEST RANGE OF NEEDS
Design

for

variety and flexibility

.
Each student is an individual with unique needs. To provide the best user experience, each space and zone has its own design considerations with variety and flexibility being integral to all.
SPECIAL NEEDS CLASSROOMS
Zoning classrooms with well defined areas cues students to the activity that is to occur there, encouraging focus and assent. Creating small table pods that accommodate a couple of students to an educator favours collaboration and engagement. Moveable dividers can also assist to provide clarification, whilst allowing ample space between furniture.
BREAKOUT ZONE
Special needs classrooms need breakout zones that allow room for unscripted play and informal learning. Comfortable reading nooks, private work spaces or bean bags in a quiet corner can all provide rest and respite from the bustle of the classroom and sanction time to refocus. Muted shades of blue, green and yellow are ideal to reduce apprehension and provide sanctuary.
sensory rooms
These unique rooms are designed to encourage students to engage with their surroundings by promoting sensory stimulation. Hands-on STEM activities, tactile textured surfaces, active seating for movement and sensory gardens are all of vital importance for children on the spectrum. Directly impacted by aesthetics including lighting and colour, touchable, durable materials provide a positive sensory experience.
escape rooms
Feeling overwhelmed is not conducive to effective learning and this is where an Escape room or space can help students relax and refocus. Dark rooms with light projectors, weighted calming blankets or enclosed furniture such as carrels and booths help create the perfect sanctuary to get away from it all. Limiting bright colours and strong patterns and positioning spaces away from noisy areas adds to the tranquillity.
Multipurpose spaces
Parents who are often on site need a space to come together with their children and their educators. Round, intimate meeting tables allow for informative discussions whilst high benches permit social observation and experience. Informal spaces with natural tones and soft lighting allow students to transition into the space so they can focus and thrive.
outdoor spaces
Outdoor learning spaces with sensory gardens and water features are a perfect pairing with autism programs given their ability to enhance learning experiences. Easy connections between indoors and out where students can explore and engage with plant life have a positive impact on physical and mental health by reducing stress and anxiety.
Furniture considerations for Special Needs
FURNITURE THAT
PROMOTES

FOCUS ON THE

TASK + INSTRUCTION

!

Our range has many options to specifically cater to students with special needs.
Start Now
Get Inspired

and create a functional Special Needs space

Today

.

We're a team of creatives who are excited about your unique ideas + spaces and help schools and community organisations to create amazing experiences by crafting top-notch learning environments.