Learning Spaces
Libraries
Resource centres for modern learning
Creating
truly vibrant

and functional

learning centres

!

The library is a dynamic learning hub that needs to accommodate a range of distinct zones. These include space for independent research, project based collaboration, lectures, meetings, interactions and presentations. Flexible design is essential to support this variety of activities in a social space that encourages interaction, conversation and knowledge exchange to process information, develop ideas and problem solve.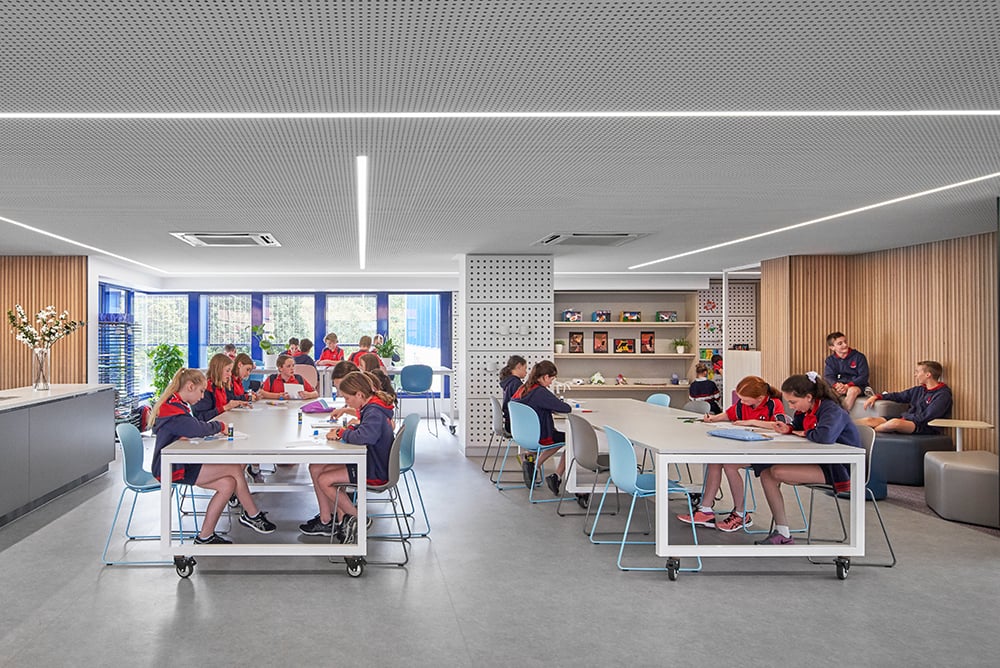 Digital Future
Create areas that
foster serendipitous

learning experiences to share, curate and discover

knowledge

.
As a starting point, consider the types of study and activity that students will undertake in the Library then create spaces within the space to accommodate.
Collaborative zone
Collaborative learning cultures are lively environments which coexist within traditional quiet reading spaces. Promote group work by creating a room within a room using high surface desks for groups of 2-6 or circular table arrangements with good eye contact for effective communication to reap the benefits of peer to peer interaction.
Quiet study zone
Gain new insights to use in new and different ways with a calm and quiet space to facilitate depth in thought. Reflective zones allow students to work independently to explore new ideas and reflect on past learnings. Be it in a reading nook, at a private workstation or online utilising digital resources.
Social learning zone
Create a social hub as you expose students to experiences that help them find their passion! This student led approach is best facilitated within an informal, comfortable zone within the library setting. With the teacher as the mentor, students can learn socially by observation as they're organised into workshop projects centered around a common interest. Flexible furniture with free form arrangements delivers personalisation where learning is interactive and creative.
Resource display zone
The library is the heart of the school with its endless collections of materials, programs and services. Invigorate the discovery process with well-presented resources showcased in easy access displays utilising face out formats that beg users to read and borrow, then watch as your circulation figures increase.
Presentation zone
Reflection is a key stage in the learning process where a student presents their understanding of what they think and understand of the topic being explored. By expressing their findings to their group of peers, feedback is provided and the potential for new thoughts and ideas to be exchanged is released. At the younger year levels this space can be utilised for story time and concept learning, as an exciting alternative venue to their usual classroom.
Librarian's Space
Be it the circulation desk, the office or the back room this is the heart of the library where all the important working functions take place. Providing adequate storage for the varying processes that are undertaken is vital for this space, as well as creating personal spaces for the staff that perform their duties here. Clear lines of sight are paramount and ensure students have access to the human resources they require when on their discoveries.
Furniture considerations for the Library
Creativity

is to

Think More

Openly + Efficiently!

Our range has many options so we're able to offer a wide array of services.
Start Now
Get Inspired

and create your dream Library

Today

.

We're a team of creatives who are excited about your unique ideas + spaces and help schools and community organisations to create amazing experiences by crafting top-notch learning environments.