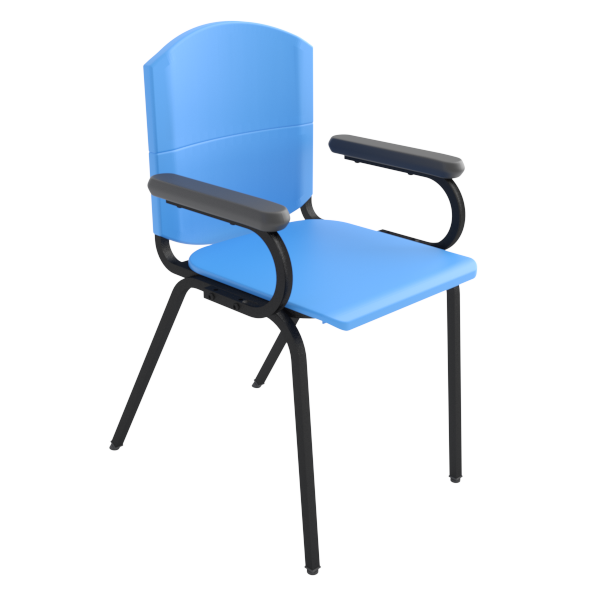 Full Back Chair
Theraplus
The Theraplus Student Chair offers a full back with padded arm rests to provide a safe seating option for special needs students who would benefit from some extra support.
---
Features
---
---
Resources

Theraplus Chair
The Theraplus Student Chair – a seating solution designed to cater to the unique requirements of special needs students. Recognising the importance of safety, comfort, and proper support, we have combined functionality with ergonomic design to ensure every student gets the best out of their learning environment.
Features
Full Back Support: Our Theraplus chair offers an extended, full back that ensures students maintain proper posture throughout their learning sessions. This design helps in reducing fatigue and ensuring that students remain attentive and focused.
Padded Arm Rests: The plush padded armrests are not just for comfort, but they provide added stability and support. This aids students who might need assistance in transitioning from standing to sitting positions or vice versa.
Safety First: Understanding the varying needs of special needs students, the chair has been engineered with their safety in mind. The sturdy build reduces the risk of tipping or instability.
Adaptable Design: While primarily designed for special needs students, its ergonomic features make it a comfortable seating option for all students, ensuring inclusivity in the classroom.
Durable Construction: Made with high-quality materials, the Theraplus Student Chair is built to last, ensuring long-term use even in bustling classroom environments.
Specifications
Frame: Black powder coated steel
Seat: Moulded polypropylene, waterfall seat edge
Arms: Comfortable PU
Features: Splayed legs to minimise tipping
Options: Replaceable seat
Model Numbers
THEF001 | Size A W410 x D510 x H600 | Seat H310
THEF002 | Size B W410 x D510 x H640 | Seat H350
THEF003 | Size C W410 x D560 x H730 | Seat H385
THEF004 | Size D W410 x D560 x H790 | Seat H445
Ideal Spaces
Classrooms, Inclusive Needs

---
More from the Classroom Seating Collection
More from other categories