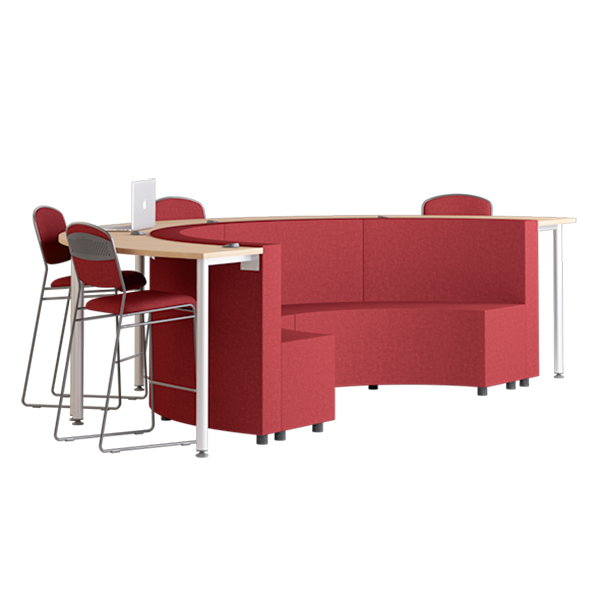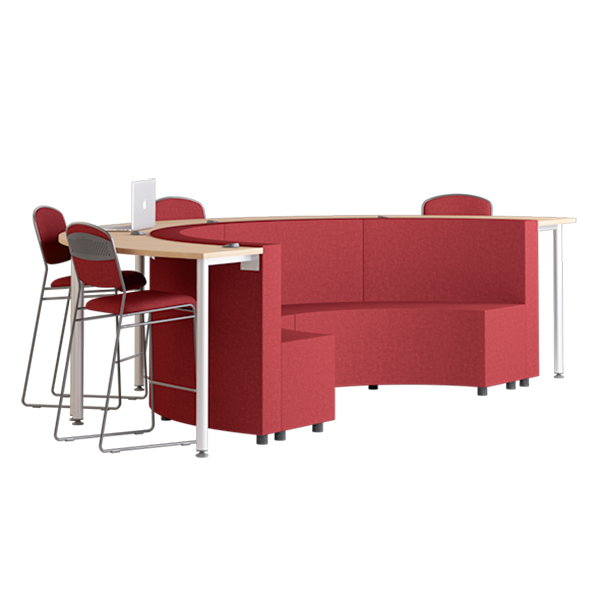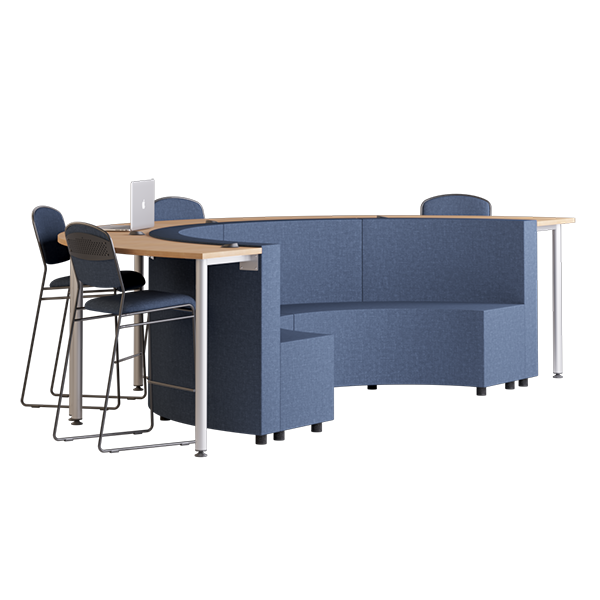 Lounge Setting
Habitat Den: D2
An amphitheatre-style hub, designed to transform educational spaces into dynamic information sharing platforms.
---
Features
---
---
Resources

Habitat Modular Lounge
The Habitat Den: D2 Modular Lounge brings the essence of an amphitheatre into the heart of educational environments. Its two-tiered design not only captivates but also serves as a modern-day coliseum for knowledge exchange, making it a standout piece in VE Furniture's Habitat Collection.
Fostering Interactive Learning
With the Habitat Den: D2 setting, you're not just providing seats; you're crafting an information hub where content comes alive. The two levels of seating facilitate visibility for all, ensuring that every presentation or discussion is an inclusive experience. This feature is essential for fostering interactive learning and ensuring that students remain engaged and connected.
Workspace Meets Comfort
The work benches that replace storage in the Habitat Den: D2 setting provide students with ample space to work on laptops, write notes, or collaborate on projects. These benches, coupled with the comfortable lounge seating, make for a perfect blend of functionality and comfort. The dimensions of W3540 x D1770 x H900 ensure that the D2 Modular Lounge fits seamlessly into various educational settings, from small classrooms to large library spaces.
Designed for the Australian School
Tailored for the Australian educational context, the Habitat Den: D2 Modular Lounge adheres to local educational standards. It not only meets the functional requirements of Australian schools but also the aesthetic sensibilities, with its sleek lines and contemporary design.
Durability and Style
Built with the same high-quality standards as the rest of the Habitat Collection, the Habitat Den: D2 Modular Lounge promises longevity and style. Its robust construction is designed to withstand the dynamic nature of school environments, ensuring it remains a staple in the classroom for years to come.
Versatile and Inclusive
Whether it's for a teacher-led seminar or a student-centric group discussion, the Habitat Den: D2 Modular Lounge's versatility shines. It supports various pedagogies and learning activities, catering to the ever-evolving educational landscape throughout Australia.
In essence, the Habitat Den: D2 Modular Lounge is more than just furniture; it's a catalyst for educational growth. It's where ideas are shared, visions are born, and learning is an immersive experience. It's the perfect addition to any learning institution seeking to enhance its educational delivery and environment.
---
Product Finishes
Atlas Fabric
11 colours available

Oasis

Abyss

Amazon

Fern
Moss

Wattle

Ochre

Persian

Peat

Slate

Fox
---
More from the Lounges Collection
More from other categories