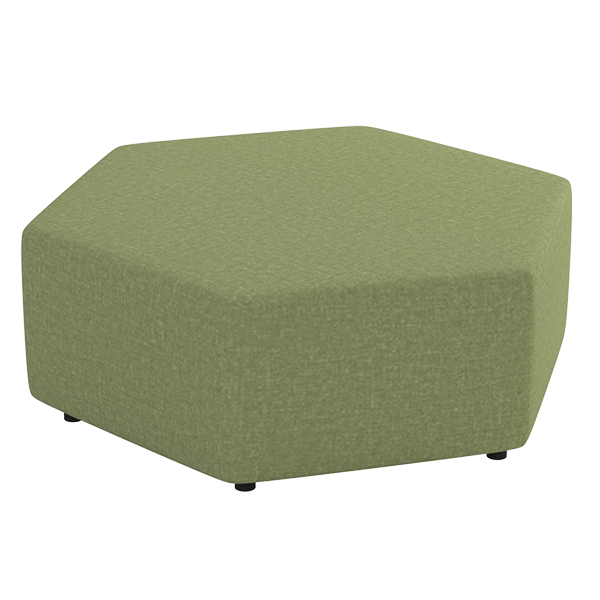 Ottoman
Elements Earth Hexagon
The ultimate fusion of comfort and versatility in educational furniture. Transform any school space into a dynamic learning environment with this innovative seating solution.
---
Features
---
---
Resources

Elements Modular Lounge
Versatile Design for Modern Education
The Elements Hexagon Ottoman is an essential addition to the contemporary Australian educational landscape. As part of the innovative Elements Collection, this ottoman seamlessly integrates into various educational settings, from bustling classrooms to tranquil libraries and staff rooms. With a generous 1380 radius, it offers ample space for students and educators alike, fostering an environment of collaboration and comfort.
Modular Compatibility for Creative Layouts
Embracing a modular design, the Elements Hexagon Ottoman perfectly complements other lounge pieces and ottomans from the same collection. Standardized in our durable Atlas fabric range, it provides a consistent aesthetic while allowing for creative layout possibilities. This compatibility ensures that you can create a cohesive and functional environment suited to the evolving needs of educational spaces.
Inclusive Design for All Ages
The Elements ottoman range is uniquely designed to cater to all areas of a school, welcoming students and staff of all age groups. Its placement versatility makes it an ideal choice for breakout spaces, learning commons, libraries, and reception areas. This inclusivity underscores our commitment to creating furniture that resonates with the diverse needs of the educational community.
Ergonomic Comfort and Durability
We understand that comfort and durability are paramount in educational furniture. The Elements Hexagon Ottoman is equipped with high-density foam padding, ensuring exceptional comfort during extended use. This comfort is complemented by a robust frame designed to withstand the rigorous demands of daily school life. Whether it's for a quick discussion or a prolonged study session, this ottoman guarantees a comfortable and enduring seating experience.
Breakout Spaces: Enhancing Education
The concept of breakout spaces in educational settings has gained significant traction in recent years. These areas offer a reprieve from the traditional classroom structure, fostering a more relaxed and collaborative learning atmosphere. The Elements Hexagon Ottoman is an ideal component of such spaces, encouraging group activities, discussions, and a more engaged learning process. Its versatile shape allows for various configurations, making it adaptable to specific learning modalities and group sizes.
Eco-friendly and Locally Sourced
In line with our commitment to sustainability, the Elements Hexagon Ottoman is crafted using eco-friendly materials and practices, aligning with the educational sector's growing emphasis on environmental responsibility.
Key Features
Legs:

50mm legs with adjustable feet
Options:

Castors
The Elements Hexagon Ottoman is more than just a piece of furniture; it's a versatile, durable, and comfortable solution that adapts to the dynamic needs of modern Australian schools. Its ability to foster collaboration, comfort, and creativity makes it an indispensable asset in any educational setting.
---
Product Finishes
Atlas Fabric
11 colours available

Oasis

Abyss

Amazon

Fern
Moss

Wattle

Ochre

Persian

Peat

Slate

Fox
Haven Fabric
8 colours available
Ink
Ocean
Leaf
Citron
Cerise
Oxblood
Lead
Wolf
---
More from the Ottomans Collection
More from other categories