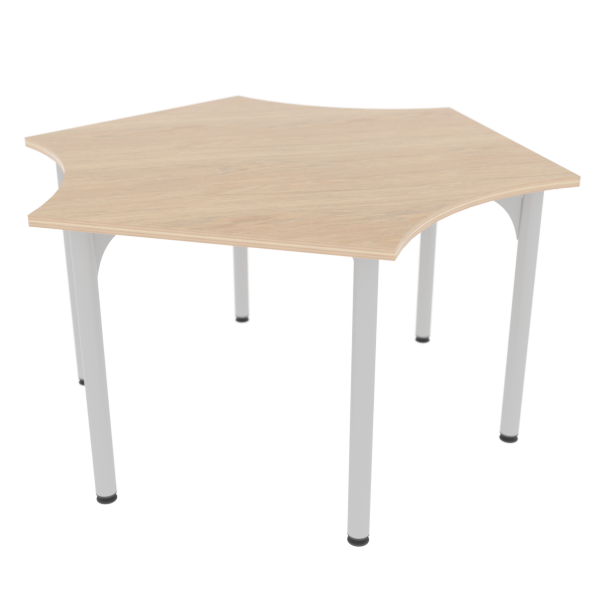 Table
Podz Axis
Podz Axis tables provide a combination of linea and curved edge profiles. Designed specifically for group work and team meetings, the large tabletop allows six people to come together.
---
Features
---
---
Resources

Podz Multipurpose Table
Engagement and creativity is vital for gaining new insights and innovation. The Podz range includes a huge selection of free-flowing, modular tables and ottomans that encourage people to come together, and see things differently. The perfect collection of products to super-charge culture and minds. Mix and match table shapes to create interactive spaces.
Specifications
Top: Laminate, Writable and Timber options
Frame: Silver powder coated steel. Other colours available upon request.
Model Numbers
Model

Description

Overall Dimensions (mm)

P7G008
Podz

Axis

720 Table - Glides

W1410 x D1220 x H720

P7C008
Podz

Axis

720 Table - Castors

W1410 x D1220 x H720

P9G008
Podz

Axis

900 Table - Glides

W1410 x D1220 x H900

P9C008
Podz

Axis

900 Table - Castors

W1410 x D1220 x H900

P5AG008

Podz

Axis

550-750 Adjustable Table - Glides

W1410 x D1220 x H550-750

P5AC008

Podz

Axis

550-750 Adjustable Table - Castors

W1410 x D1220 x H550-750

P7AG008

Podz

Axis

720-930 Adjustable Table - Glides

W1410 x D1220

x H720-930

P7AC008

Podz

Axis

720-930 Adjustable Table - Castors

W1410 x D1220 x H720-930
---
More from the Multi-Purpose Collection
More from other categories