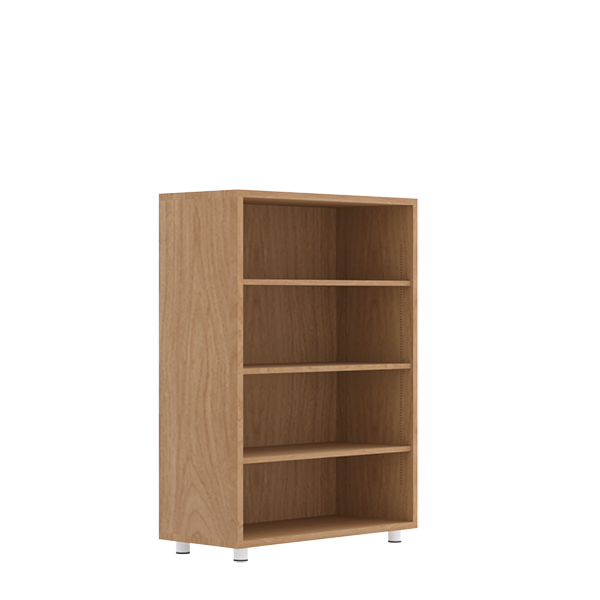 Single-sided Bookcase
Inform 1200
The Inform 1200 Bookcase: A harmonious blend of form and function, designed to enrich the educational landscape of Australian schools, from primary to tertiary levels.
---
Features
---
---
Resources

Inform Technical Guide
Modern Design for Modern Learning Spaces
Embracing a contemporary design, the Inform 1200 Bookcase (W900 x D310 x H1250) offers a perfect balance between aesthetic appeal and practical functionality. Its medium height makes it an excellent choice for various educational settings, providing ample resource storage without overwhelming the space.
Eco-Friendly, Durable Construction
Adhering to sustainable practices, this bookcase is made from E0 Laminate board, with options to upgrade to laminated plywood, birch plywood, or rubberwood. These materials not only contribute to environmental stewardship but also ensure the bookcase's longevity and resilience.
Customisable and Versatile
Featuring 50mm adjustable feet, the Inform 1200 caters to the unique needs of educational environments, offering stability on uneven surfaces. The adjustable 25mm flat edge shelves, with a 5mm inset, provide a sleek and safe storage solution, adjustable in 10mm increments for diverse book sizes and storage requirements.
Ideal for Diverse Educational Settings
The Inform 1200 Bookcase is versatile enough to fit into various educational environments, from bustling primary classrooms to quiet university libraries. It offers an organised space for books and resources.
Features
Standard

with 3 adjustable shelves
Shelves

are adjustable in 10 mm increments.
Upgradeable

to 100mm high adjustable legs
---
More from the Shelving Systems Collection
More from other categories