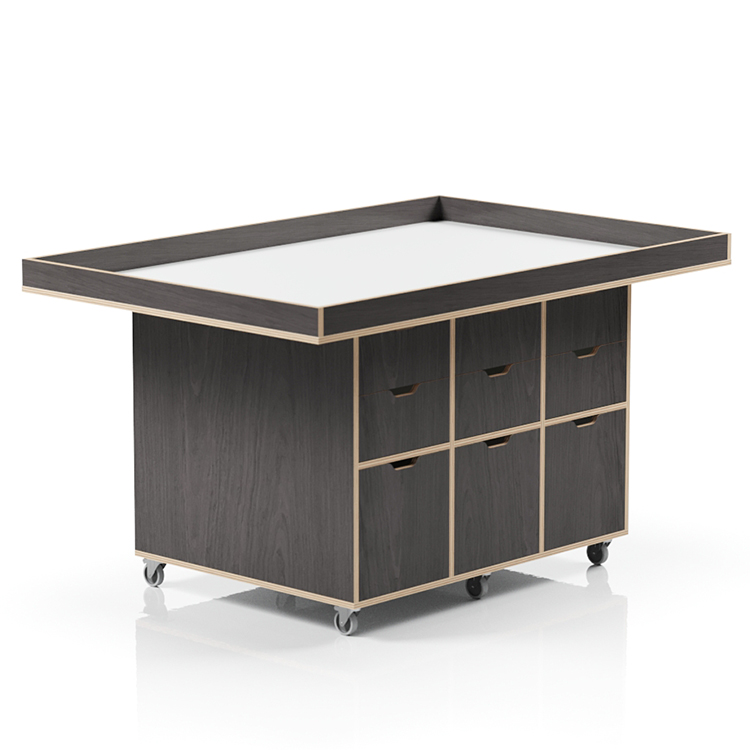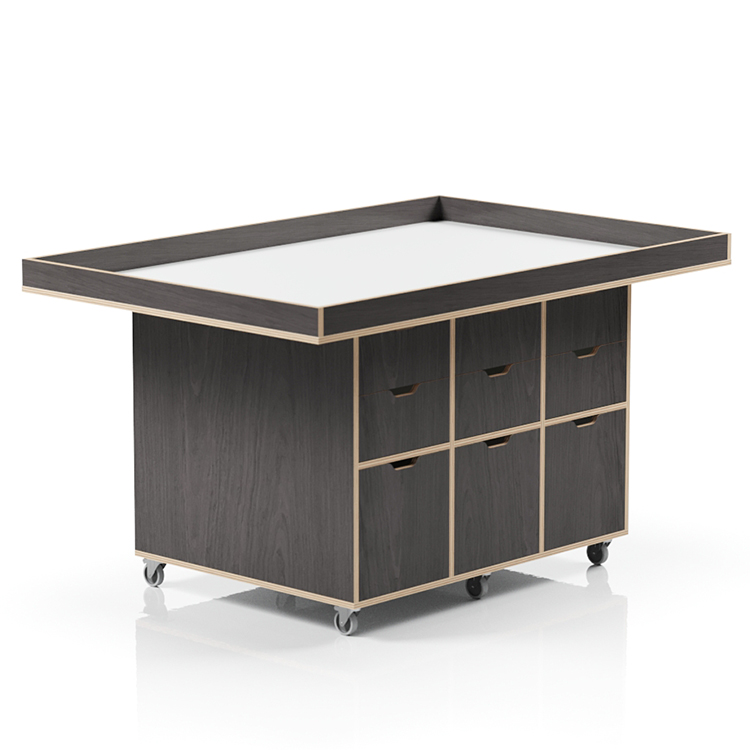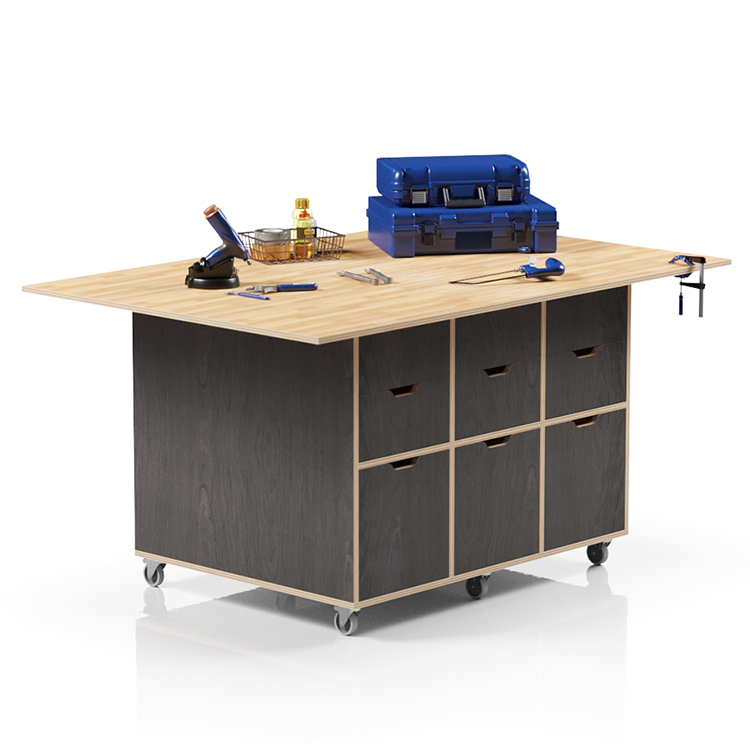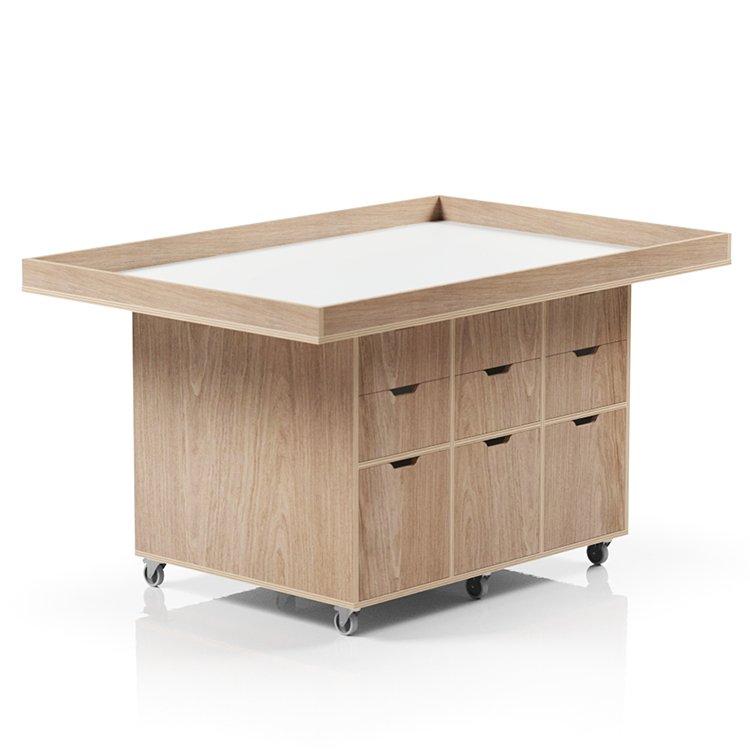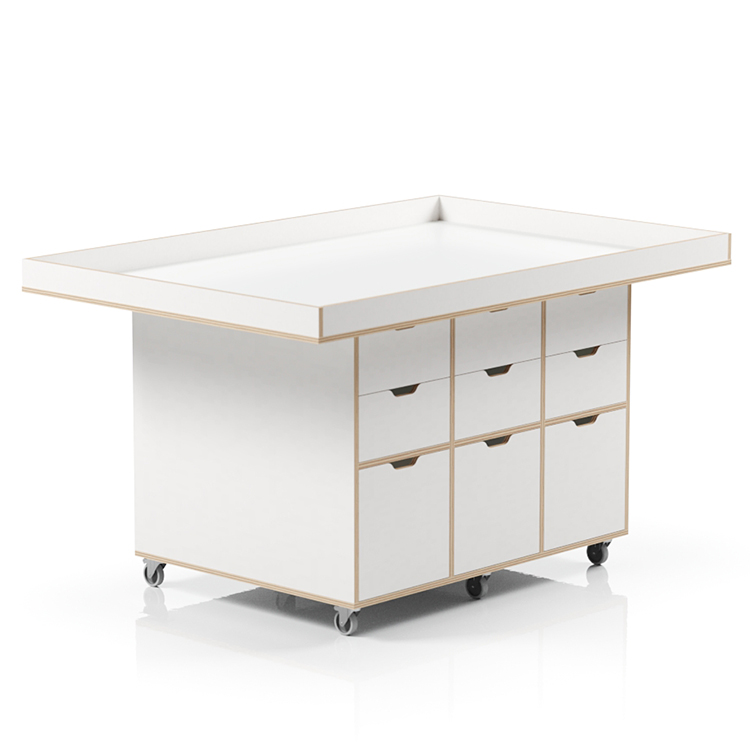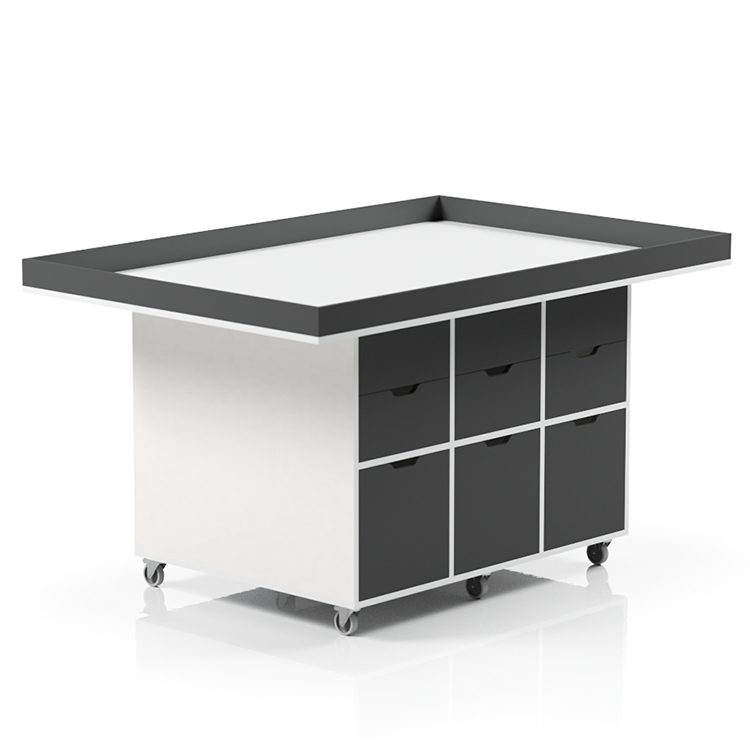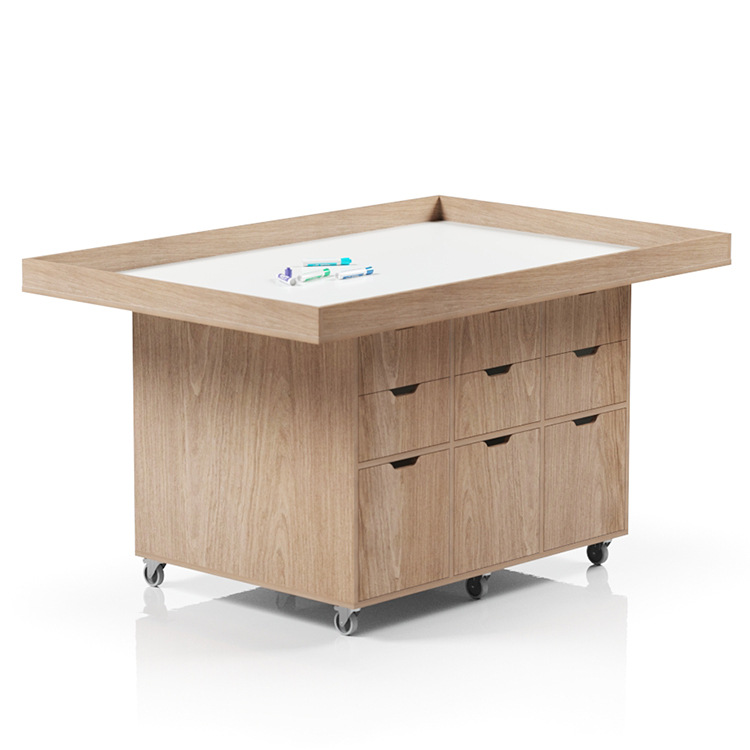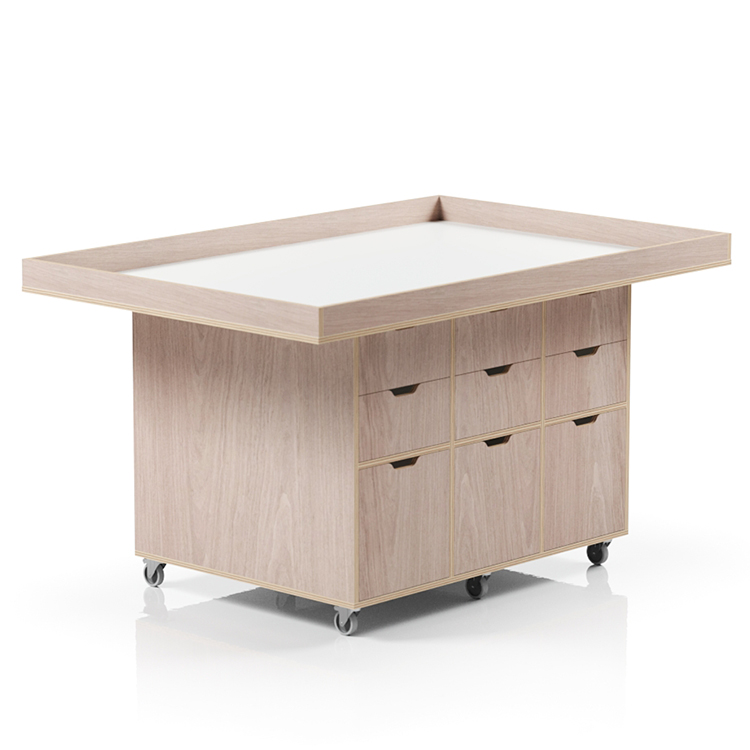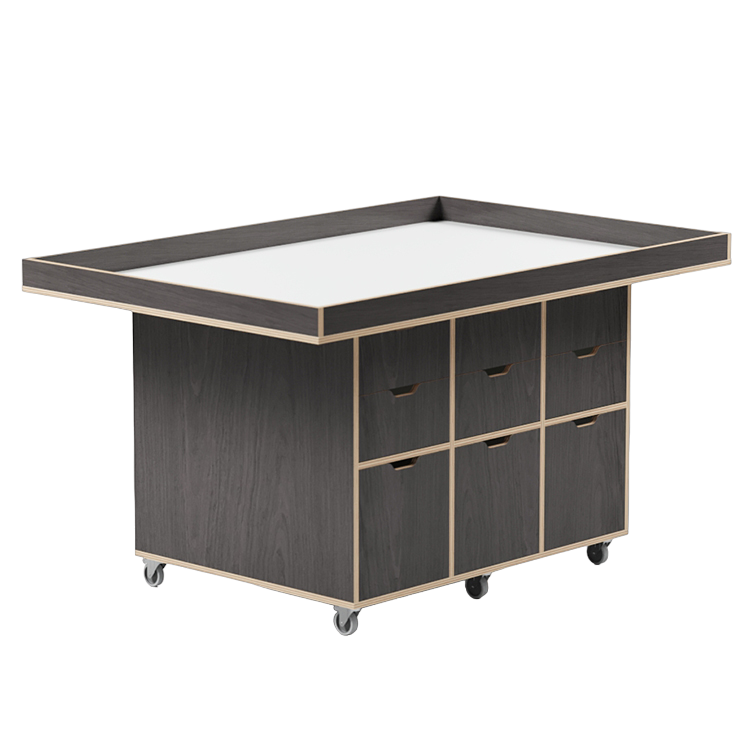 Creator Table
Maker Assemble Table
Designed for the thinkers and creators, the Maker Assemble Table is a staple in STEM spaces, offering extensive drawer storage for an organised educational setting.

---
Features
---
---
Resources

Maker Activity Table
A Hub for Innovative Learning
The Maker Assemble Table is the ideal companion for STEM classrooms, makerspaces, and resource centres. Its dimensions of W1800 x D1200 x H900 make it a perfect fit for practical learning environments where space and organisation are key.
Ample Storage for Tools and Materials
With six large drawers and twelve small ones, this table stands out for its storage capabilities. It's crafted to ensure that every tool and learning material has its place, making it an ideal selection for classrooms that rely on a wide array of resources. The drawers are designed for ease of use, enabling quick access and efficient storage management.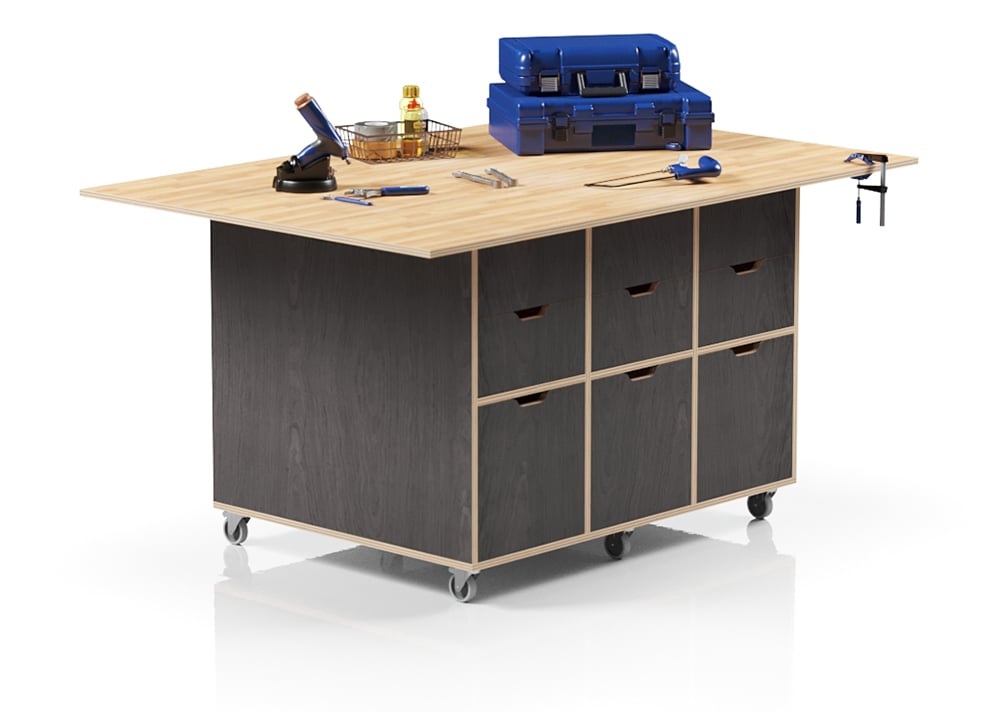 - Maker Assemble table shown dark oak laminated plywood with a rubberwood worksurface -
Facilitating Practical Learning
The Maker Assemble Table is much more than just a table with drawers; it's a strategic asset for any educational environment that values hands-on learning. It allows students to easily assemble and disassemble projects, supporting an educational approach that emphasises practical skills and real-world applications.
Perfect for Resource Centres
In resource centres where organisation and accessibility are paramount, the Maker Assemble Table shines. It allows staff to store and categorise learning materials effectively, ensuring that they are readily available for student use. This organisation streamlines the learning process and enhances the overall educational experience. For added convince in resource centres, the raised edge can be removed upon specification.
Key Features
Innovative Learning Hub: Serves as a central point for engaging in STEM activities and resource management.
Extensive Drawer Storage: Offers a combination of large and small drawers for comprehensive resource storage.
Practical Learning Facilitator: Ideal for classrooms that focus on hands-on, practical skills.
Resource Center Ready: Enhances the functionality of spaces dedicated to learning material management.
Durable Construction: Crafted to withstand the rigorous demands of daily educational use.
FIRST Lego League: Can be upgraded to be compatible with FIRST Lego League Challenge mat kits.
---
Product Finishes
E0 Laminate
6 colours available

Dark Oak

Natural Oak

Light Oak

White

Grey

Writable
Laminated Ply
4 colours available

Dark Oak Ply

Natural Oak Ply

Light Oak Ply

White Ply
Natural Timber
2 colours available
Birch Ply

Rubberwood
---
More from the Benches + Counters Collection
More from other categories