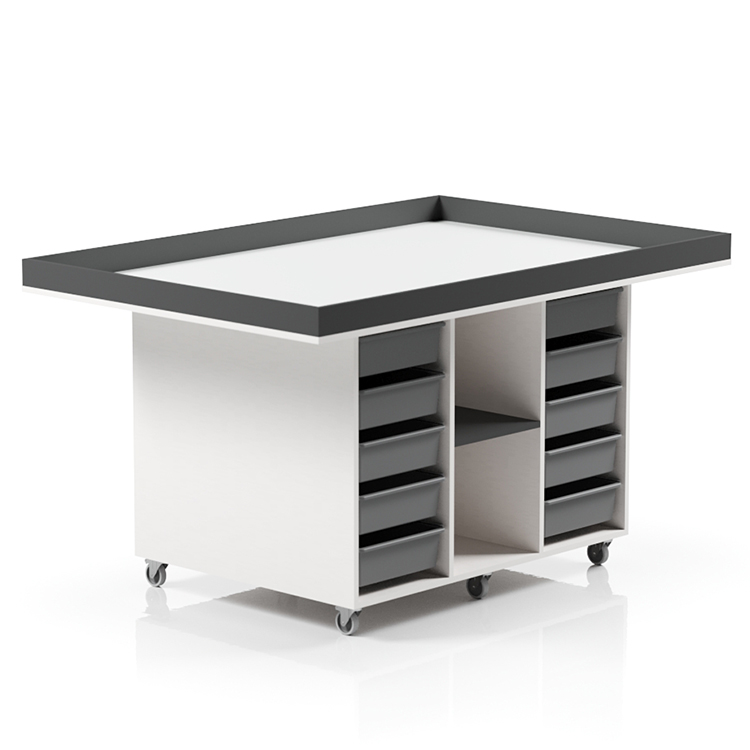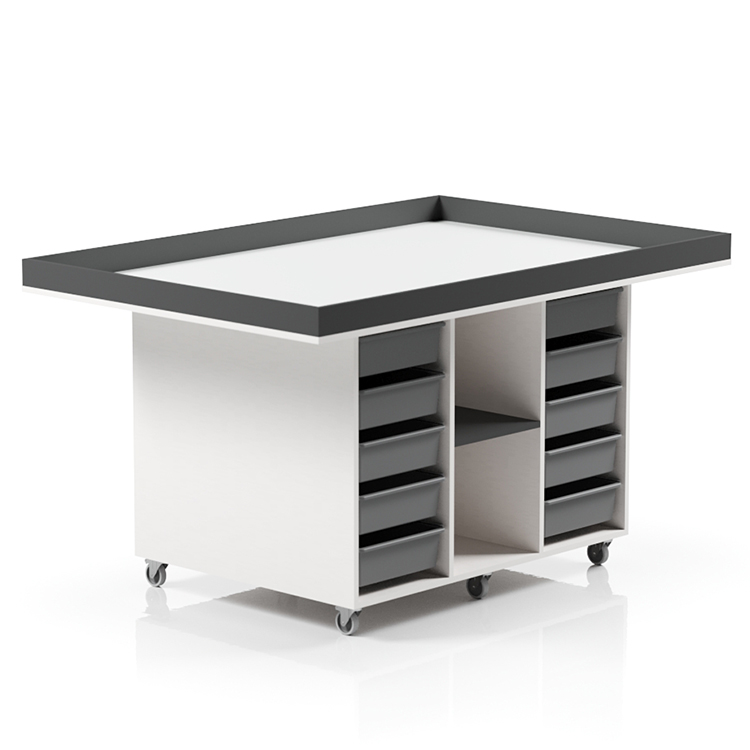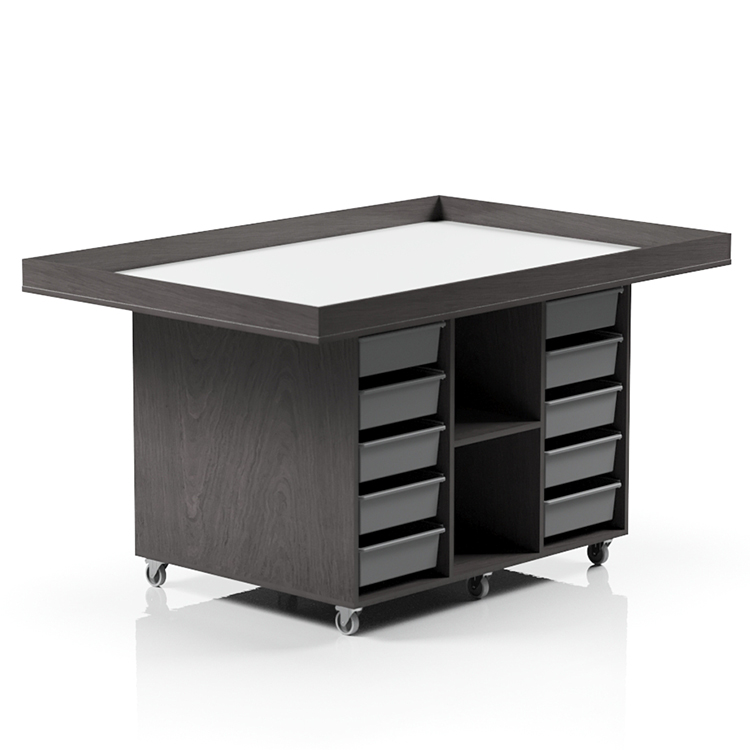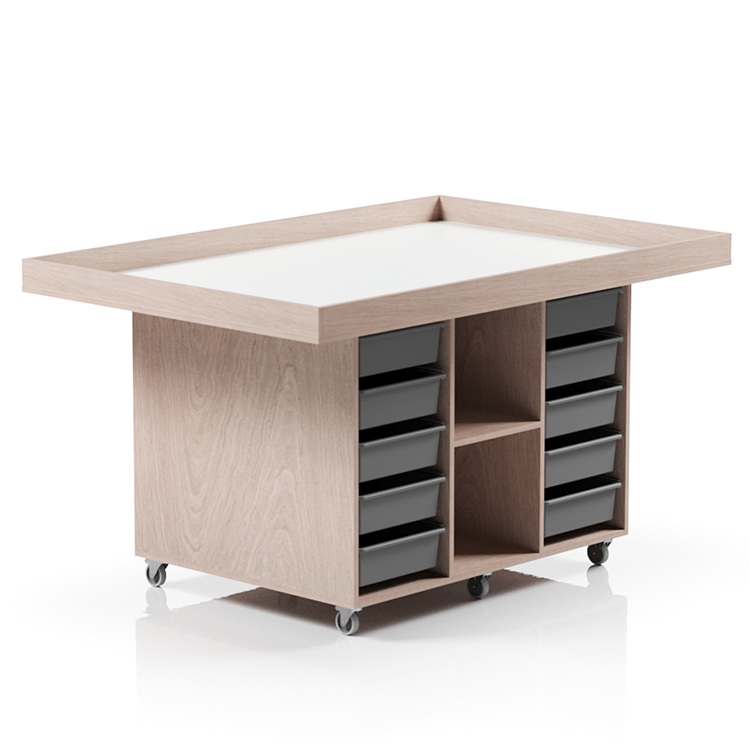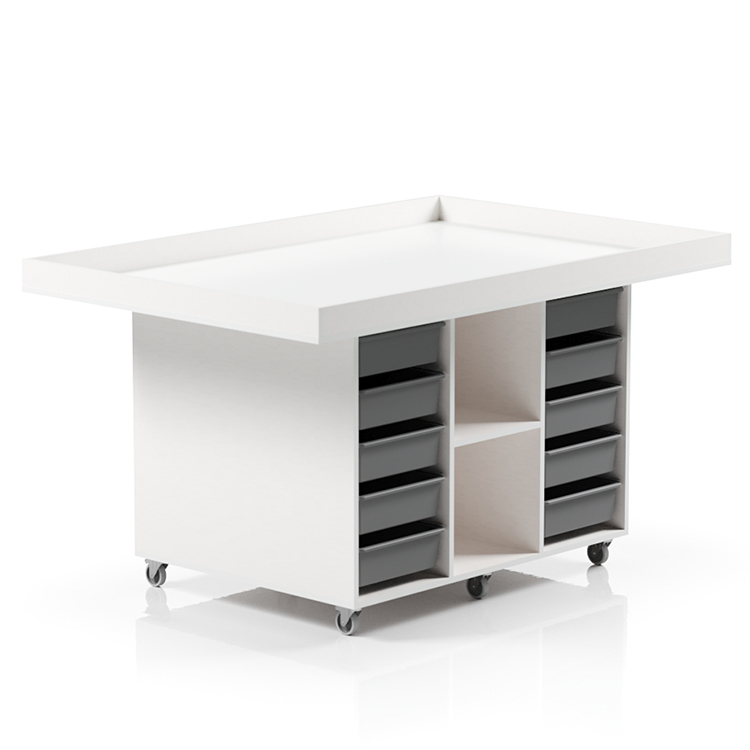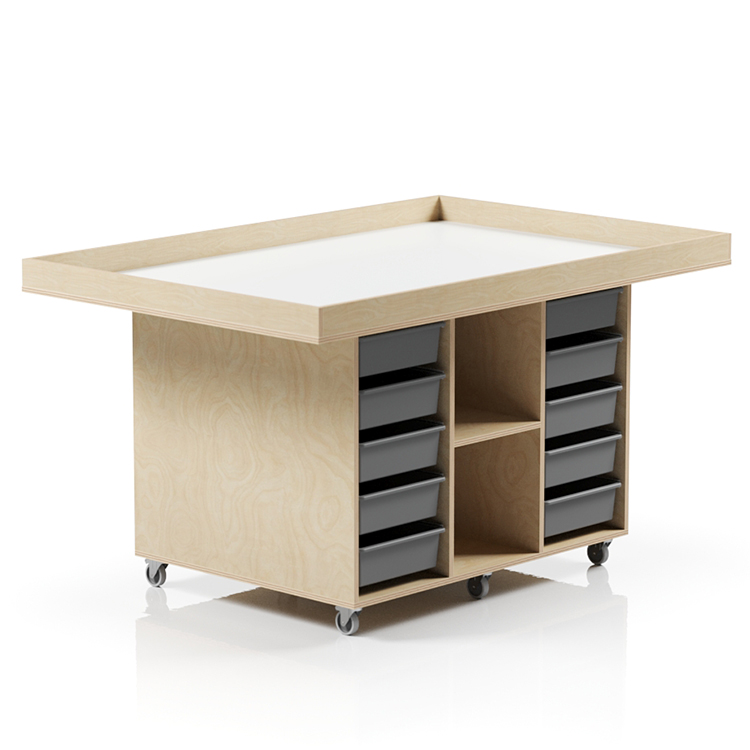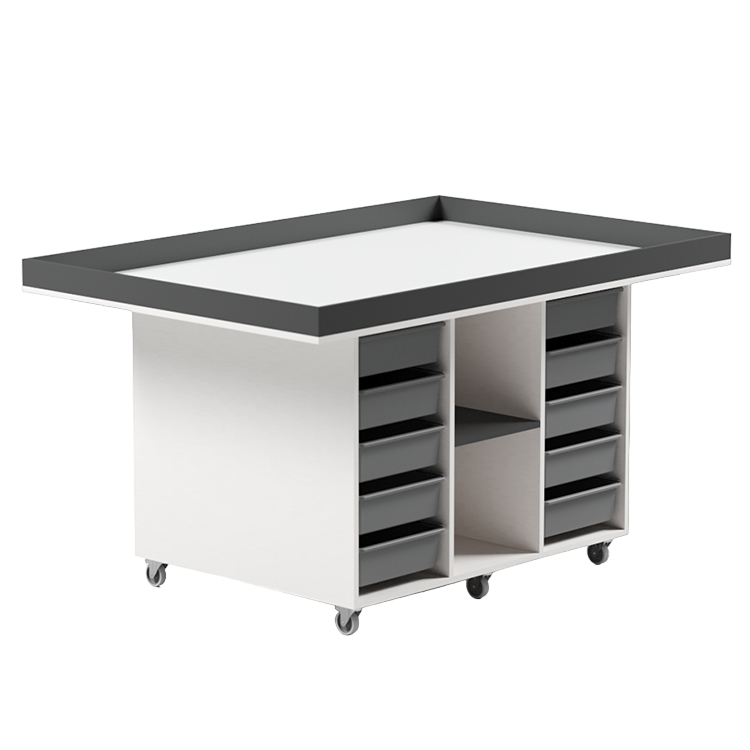 Creator Table
Maker Explorer Table
With extensive tote and bay storage, the Maker Explorer Table transforms classrooms into dynamic spaces for discovery, making it the heart of collaborative and practical learning.
---
Features
---
---
Resources

Maker Activity Table
Innovative Design for Comprehensive Learning
The Maker Explorer Table is a testament to thoughtful design, tailored to meet the complex needs of today's learning environments. Spanning W1800 x D1200 x H900, it is crafted to facilitate a broad range of educational activities, from hands-on exploration to group projects.
Extensive Storage for Class-Wide Resources
This table sets itself apart with 20 pull-out totes, offering exceptional storage capabilities to house all manner of resources. The easily accessible totes ensure that students can store and retrieve materials efficiently, minimising downtime and keeping the focus on learning.
Accommodating Large Items with Ease
Beyond the totes, four large open storage bays provide the perfect solution for storing bulkier items such as school bags, jackets, and additional supplies. These bays allow students to keep their personal belongings secure and out of the way while engaging in practical activities, ensuring a tidy and uncluttered workspace.
Crafted for the Curious Minds
The Maker Explorer Table is not just furniture; it's a catalyst for curiosity. It invites students to delve into making, exploring, and learning, with every tool and resource within reach. The design reflects a deep understanding of the rhythm of a learning environment, where every element plays a role in supporting educational outcomes.
Durable and Adaptable
Designed to withstand the hustle and bustle of energetic practical classroom settings, the Maker Explorer Table boasts a construction that is both durable and stylish. It's built to endure, with a design that adapts to the evolving needs of Australian schools, making it a smart long-term investment.
Key Features
Comprehensive Design: Specially sized for varied learning activities, accommodating the entire class.
Ample Storage: Equipped with 20 totes and 4 large bays for all essential resources and personal items.
Learning Catalyst: Engineered to inspire and facilitate a hands-on educational experience.
Enhanced Organisation: Encourages a neat and orderly environment, crucial for effective learning.
Built for the Future: A robust and versatile piece that promises to grow with the needs of the school.
FIRST Lego League: Can be upgraded to be compatible with FIRST Lego League Challenge mat kits.
---
Product Finishes
E0 Laminate
6 colours available

Dark Oak

Natural Oak

Light Oak

White

Grey

Writable
Laminated Ply
4 colours available

Dark Oak Ply

Natural Oak Ply

Light Oak Ply

White Ply
Natural Timber
2 colours available
Birch Ply

Rubberwood
Toteboxes
6 colours available
Grape

Cranberry

Storm

Apple

Tangelo

Opaque
---
More from the Benches + Counters Collection
More from other categories