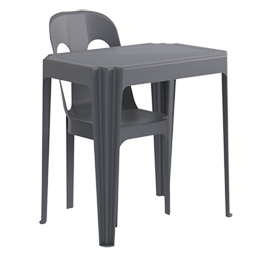 Exam Package
Pippee
Includes
100x Pippee Stacking Chair
100x Pippee Stacking Table

Starting From
$8,999 + GST
---
Features
---
Designed specifically for the secondary school exam season, our package brings together 100 lightweight Pippee stacking tables and 100 Pippee stacking chairs. This tailor-made combination ensures that your institution can effortlessly adapt to exam requirements while ensuring optimum space management and ease of setup for staff.
✨ Key Benefits:
Mobility Mastered: Our Pippee tables and chairs are feather-light. Move them around without breaking a sweat, ensuring that setting up exam spaces is hassle-free.
Space Saviour: The unique stackable design of both the chairs and tables means when the exams are over, they can be stacked and stored away efficiently, freeing up space.
Maintenance Made Simple: Keeping the furniture clean is a breeze. With their easy-to-clean surfaces, your school will always look its best.
💡 Why Pippee? Beyond the tangible benefits, our package offers exceptional value for money. Investing in Pippee is a promise of durability, utility, and unmatched cost-effectiveness.
🚫 Say Goodbye to Hassles: The Pippee package addresses one of the biggest pain points schools face during exam season - the tedious task of setting up and tearing down. Our intuitive design and features ensure that this once cumbersome task is now a thing of the past.
---
More from the School Exam Furniture Packages Collection
More from other categories