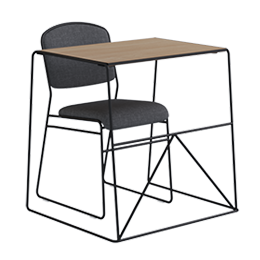 Exam Package
Rune
Includes
25x Rune Stacking Table
1x FREE Storage Trolley

Starting From
$2,875 + GST
---
Features
---
As the exam season approaches, school staff often grapple with the tedious task of setting up and taking down exam spaces. Enter the Rune Stacking Table Package: the epitome of design meets functionality, specifically curated for secondary school exam periods.
✨ Key Benefits:
Slimline Design: The Rune stacking tables boast a sleek and sophisticated aesthetic, finished in our signature Natural Oak laminate.
Stackability: Crafted for convenience, these tables don't just look good but are engineered to stack effortlessly, ensuring optimal space management.
Bulk Purchase Value: Acquire 25 Rune stacking tables and receive a FREE storage trolley, ensuring a hassle-free storage solution.
💡 Why Rune?
Mobility: Lightweight by design, these tables are easy to move, making exam setups a breeze.
Versatility: While they shine during the exam season, their appeal isn't seasonal. Their design finds favour in classrooms, libraries, and during parent-teacher conferences, ensuring they're a year-round asset.
Space Efficiency: Their stackable nature translates to a clutter-free environment, especially when not in use.
🚫 Say Goodbye to Hassles: The Rune table package addresses one of the biggest pain points schools face during exam season - the tedious task of setting up and tearing down. Our intuitive design and features ensure that this once cumbersome task is now a thing of the past.
Welcome to the Rune experience.
---
More from the School Exam Furniture Packages Collection
More from other categories